FOSTERING SAVES LIVES!
Quick Links:
If you are interested in fostering, please email ForeverYoursOKC@gmail.com or fill out our Foster Application!  The dogs listed below currently live in boarding and would just love a home to live in.  Not only would this increase the quality of their life but it would also help increase their chances of adoption.  If you have the room, please consider fostering!   The dogs below are also available for adoption, or foster to adopt.  
More Information About Fostering
Foster Application
Listings
ARCHIE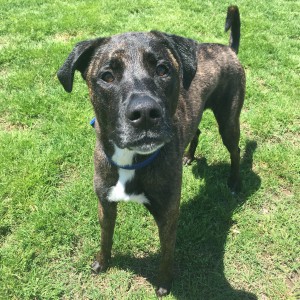 This amazing and handsome boy is Archie. He is a 2 year old very tall but slim 70 lb Shepherd/ lab mix. Archie came to us about a year ago after being adopted out as a puppy. He was not socialized and was scared of everyone and everything. After a year of training and working with him, he has become one happy amazing dog who has other dog friends and does well meeting new people now. 
Archie loves to play fetch and loves to play with his dog friends. He really loves going on walks and loves attention from people. He is such a sweet boy and has really enjoyed working with the trainer. His favorite trick is "touch" and he is very food motivated. 
He was let down before but he is an incredibly sweet boy who deserves his forever home. He will need a stockade fence as he's very tall and could easily jump a short fence and would love another dog in the home!
GREAT WITH OTHER DOGS 
---
CARLY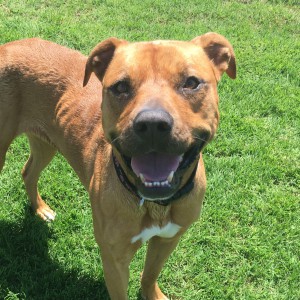 Carly is a dog who will immediately grab your attention with her smile. She smiles anytime she meets a new person or what she refers to as her new best friend. Carly just loves loves loves people and she does great with other dogs! She is a social butterfly and an absolute sweetheart.
She is a 3 year old Rhodesian Ridgeback/ Boxer mix who weighs 68-70 lbs. Carly would like a home where she has lots of love. She's enjoy a comfy dog bed to lay on after a nice walk. She is a playful girl who would do well with another dog friend and a yard to run and play in.
GREAT WITH PEOPLE AND HAS DOG FRIENDS
---
LUCILLE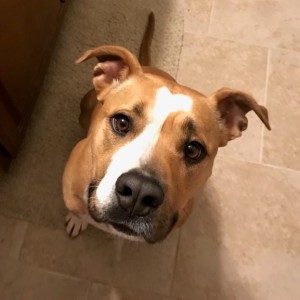 This sweet girl is Lucille. She is a 3 year old Boxer mix who weighs about 60 lbs. Lucille is one of the sweetest and most affectionate dogs you'll meet. She loves people and will hug anyone who will let her. She's a laid back dog and would make a wonderful companion.
Lucille's foster describes her as an extremely well-behaved dog with a sweet disposition. She doesn't show an ounce of aggression and is extremely affectionate with her people. She loves to cuddle and she loves to sleep next to her human. Overall she is a great, sweet dog.  Unfortunately, she can no longer foster her as she is moving into an apartment so Lucille needs a new foster!
Lucille's perfect home would be one where she was given lots of love and affection. She doesn't need much more than that. Lucille does well with most dogs she meets but prefers those more her energy level and her size. She has been great with older children that she has been around. However, she doesn't do well with small dogs or cats.
GOOD WITH MOST DOGS HER SIZE AND ENERGY LEVEL
---
SMITTY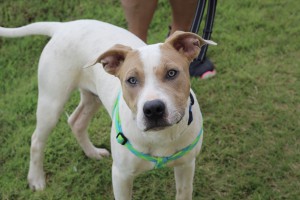 This handsome and sweet boy is Smitty. He is a pit bull/pointer mix who weighs about 55 lbs and is full grown as he's about 1 year old. 
Smitty LOVES playing with other dogs. He has lived with 4 other dogs and does well with all of them.  Now he's at Camp Bow Wow where he plays well in group with the other dogs!  He loves to hang out in the backyard but also loves snuggling up on the couch. He's not a lap dog but he does love sleeping in the bed and giving lots of kisses. Watch your ears — that's his favorite place to lick!
Smitty is very smart. He is treat driven and knows how to sit on command. He is house trained to use a dog door and crate trained when his foster mom is out. Smitty will do best in a home with a yard that has a 6ft fence and no cats. 
GREAT WITH OTHER DOGS.  NOT GOOD WITH CATS
---
OSCAR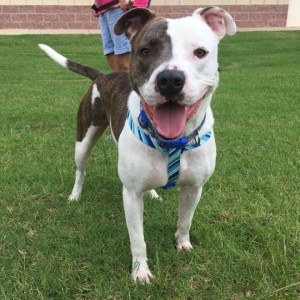 This sweet boy is Oscar. He is a 2-3 year old pit bull mix who weighs 55 lbs.  Oscar loves to play with toys and he loves people! He loves going on walks and getting to say hi to everyone he passes. He'd probably do well with older kids but not as well with small children since he's basically a big puppy who will jump and mouth.
Oscar would like a home where he has an active family to occupy him and a backyard with a stockade fence. He is such a sweet boy who just needs someone to give him a chance at a life with love and a family.
GOOD WITH OTHER DOGS 
---
HOPE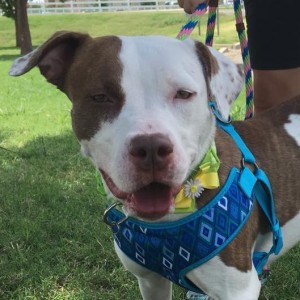 Hope is an approximately 2 year old pit bull mix who weighs about 55 lbs. 
Hope is so full of love for people. She just wants to be with her people. She is very loyal and smart. Hope is selective about her doggy friends, specifically females. She seems to love the male dogs. She will need to meet any dogs in the home. Hope has not been in a foster home with children but seems to do great with them at outreaches.
Hope is crate, leash, and house trained. She has been through the Mable Basset dog training to help her with basic training and socialization.
GOOD WITH MALE DOGS
---
SHELBY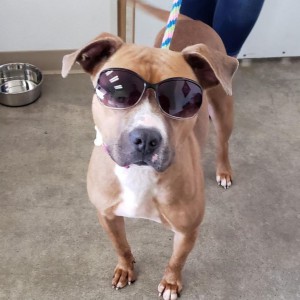 This sweet girl is Shelby. She is a 2 year old, 46 lb pocket pit bull mix. 
Shelby loves loves loves people. She just wants to give everyone she meets a big kiss. She is so happy to meet anyone and greets you with a full body wag. Shelby does fine passing dogs and does great playing with them through a fence but she is not good with dogs once they are in her space so she is going to have to be an only dog in her home. She is really great and friendly with people so she'd be good with older kids however since we haven't had her around small children we aren't sure how she'd be.
Shelby would like a home where she has a fenced yard to run and play in. She'd love a home where she got to go on walks and get lots of love, toys, and snuggle time.
MUST BE ONLY DOG
---
MAVERICK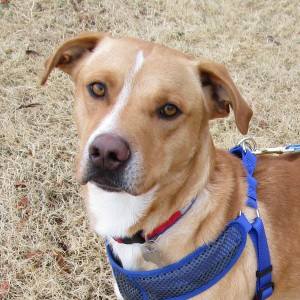 This incredibly handsome boy is Maverick. He is in search of a foster or even better a FOREVER home! Maverick is a 1 year old Lab mix weighing about 55lbs. 
Maverick loves to play with other dogs! He is really rambunctious while playing so will do best with other playful dogs who will enjoy his energy. He plays at Camp Bow Wow.
Maverick would love a home with an active family who will take him on daily walks or runs. He will need a 6ft fence as he'd be able to jump a shorter fence. He is likely not good with cats. He'd do well with older children but since we haven't had him around young children I'd say only children 10 and up.
GREAT WITH OTHER DOGS!
---
KEEGAN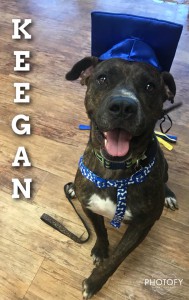 Meet Keegan! He is a very kind, sweet, and happy boy. He just loves loves loves people of all sizes and would really love to have a family of his own. Keegan is about 4 years old and has spent half his life waiting for a family to love. Keegan looks like a Mastiff/Boxer mix but also maybe Pit mix.
Keegan loves to play and go on car rides. He loves going on walks and just hanging with his people. He'd be a good dog to lay around the house with or to take out and about on hikes. Keegan would do well with children in the home or with a single person looking for a companion. As long as there is someone there for him to love, he will be happy. Although Keegan is incredibly loving with people, he is picky when it comes to dog friends so he would do best as an only dog.
Keegan has been to obedience training where he learned some basic manners. He knows how to sit, lay down. and walks well on a leash.  Keegan is crate and leash trained. He is currently in boarding and therefore will probably need some help relearning house training. He'd probably do really great in a home with a doggy door as he does choose to go outside when he has the option.
MUST BE ONLY DOG
---
KEIRA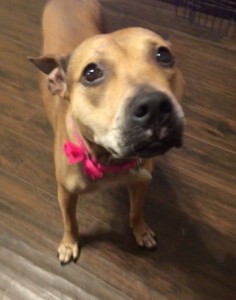 This sweet girl is Keira. She is a 4 year old Pit Bull mix who weighs 40 lbs. Keira was found living in a hoarding situation which was not good for her health but despite this she is incredibly kind and sweet with all people and other dogs. 
Keira loves to snuggle with her people and she loves to play with other dogs. She is a very sweet dog who is very friendly and outgoing. She wants to be with her people as much as possible. 
Keira would like a home where she has another dog friend to play with and lots of love. She also loves to go on walks so would love an active family who would take her on a daily walk. She needs a patient family who will work with her on her training but will love her for the amazingly sweet dog she is. She would also love a home with a securely fenced yard as she loves to play outside. 
GOOD WITH OTHER DOGS
---
AMY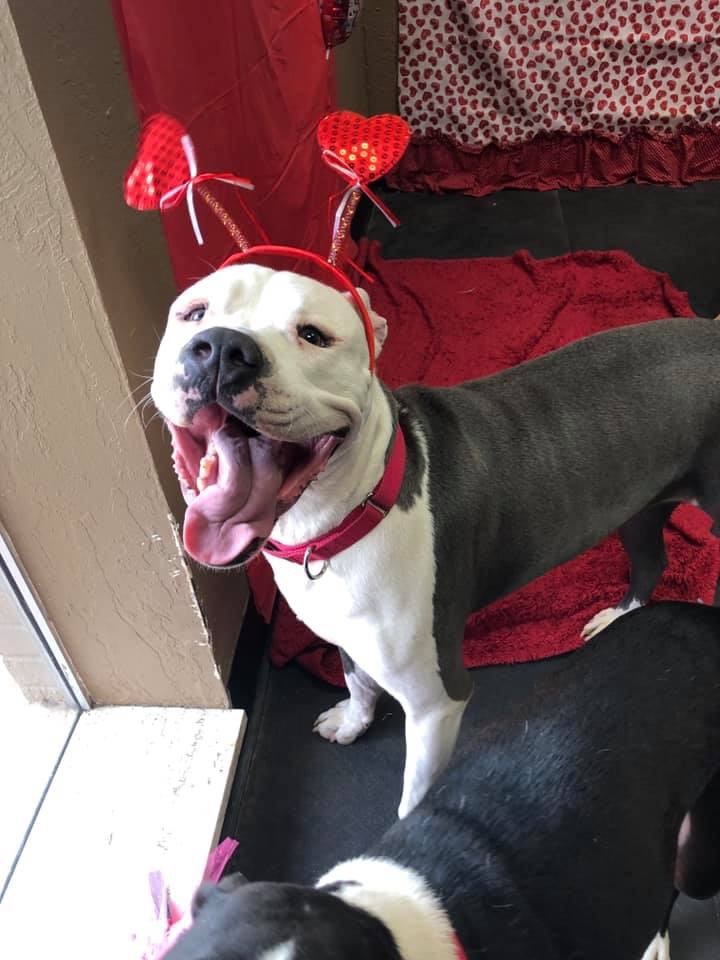 This sweet girl is Amy. She is a 2 year old pit bull mix who weighs 70 lbs. Amy was previously in a home with cats, dogs (small and large), as well as a little kid. 
Amy loves to play and to snuggle. As you can tell in the pictures, she really loves to nap on the couch. Amy is good with cats, dogs, and kids. She can be a little picky with her dog friends (does not like puppies in her face) but does well with most. She would do best with older children due to her size and her tendency to jump. 
Amy would like a home where she gets plenty of exercise and plenty of love. She will require a 6ft stockade fence. 
GOOD WITH MOST OTHER DOGS