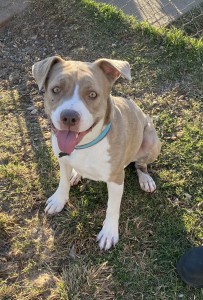 Beatrice is an approximately 4-year old female Retriever/Pit Bull mix who weighs around 60 lbs. She was rescued as a stray & very pregnant. All her puppies have been adopted and now it's Beatrice's turn!
Beatrice is a calm girl for the most part, she just wants to be by your side & doing activities with you. She is affectionate, loyal, and sweet-natured. She can be playful with other dogs, and loves most other dogs, but she does need to meet all dogs in the household before adoption. She would be fine as an only dog as well if she is included in activities and receives attention and love.
Beatrice would love to be your best friend and side-kick. She loves meeting new people and is friendly and social. She rides great in a car, once she settles in. Very good on a leash.