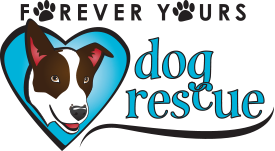 Forever Yours Dog Rescue was founded on November 8th, 2011 by three very dedicated and determined women. Between the three of us, we have twenty-five years experience in rescue, volunteering, fostering, and fundraising. We have over a hundred years of love for dogs.
We are an Oklahoma city based all-breed dog rescue. We don't care about a dog's breed, size, condition, age, or color. If a dog is in need of rescue and we are in a position to help, we will.
We care for the unwanted, abandoned, neglected and abused dogs of Oklahoma. We rescue dogs from the streets as well as from local shelters and shelters throughout Oklahoma, especially small rural shelters with no public adoption programs.
We do take in owner surrender's under certain situations. If you have found a dog and are willing to foster the dog until it finds a home, we will cover the cost of vetting and work to find the dog a great forever home, but we need your commitment to foster the dog until we can find the best home possible.
We advocate spay/neuter and offer assistance in finding a low-cost option for those that qualify. Spaying/neutering your pet is one of the best things you can do for them to insure they live a healthy and happy life, and are not contributing to the over-population problem that plagues Oklahoma and many other states in the US.
We promote adoption as an alternative to buying your pet. Oklahoma is number two in the United States in the number of operating puppy mills. These mills are living hells for the mom and dad dogs that are forced to reproduce for their greedy owners. When you adopt a pet from a shelter or rescue, you can know that you part of the solution and not part of the problem.
We provide pet ownership education through materials, counseling, and on-site workshops, at no cost to the public, with an emphasis on preventative care. We are available to come to your school, church, organization, or place of employment and present a program educating the public on the benefits of adopting instead of buying their next family member.
Forever Yours Dog Rescue Founders
Michelle Ray
Michelle was raised on a farm in the small rural town of Mtn. View, OK, where her family still owns a buffalo farm. Being raised in the country, she learned compassion at a young age, always bringing stray dogs home that had been abandoned near the farm. She has volunteered and fostered for various rescued groups since 1990. She was the Adoption Coordinator for Best Friends of Pets from early 2009 to November of 2011.
Michelle is a co-founder and Executive Director of Forever Yours Dog Rescue. Besides helping to decide which dogs to bring into the program and working with the shelters and transporters to get the dogs to the rescue and arranging their vet care, she is also responsible for fund-raising and leads the adoption outreaches.
Michelle lives in Oklahoma City with her husband David and his son Josh. They have four dogs of their own, and usually one or two foster dogs hanging around until they can find their forever homes.
Betty Robins
Betty Robins is a co-founder for Forever Yours Dog Rescue
Betty lives in Oklahoma City with her husband Lee and their four dogs and various foster dogs. She is a proud mom of two sons, Wesley and Everett.
Denise Dipzinski
Denise Dipzinski is a co-founder for Forever Yours Dog Rescue.
Denise lives in Oklahoma City with her husband, Mike, and their four dogs, cats, and foster dogs. She is a proud mom to two daughters, and also a proud grandma.