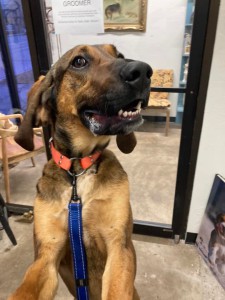 This sweet boy is Doc. He is a 10 month old Coonhound mix who weighs 70 lbs but will be about 80 lbs full grown. Doc was rescued from an outdoor shelter before we reached freezing temperatures so he could be somewhere safe and warm. We rescued him without having a foster yet so right now he's spending his time at a doggy daycare but sure would love a home!
Doc loves loves loves to sniff. He would be in heaven if he could go on walks and sniff around each day. He is a very casual walker because he likes to walk with his nose on the ground. He does great passing other dogs and people. He even meets friendly dogs well on leash and does great with the dogs at daycare. He does really love to play with the other dogs while he is at daycare so would do well with a playful friend.
Doc would like a home where he is taken on daily sniff walks, given lots of love and affection, and has lots of yummy treats or chews. He would enjoy the company of another dog. He is a gentle giant so he would likely do well with children but we have no had him around any.
Doc is leash trained. He only pulls a little if he's on a scent trail. He is likely crate trained as he currently has to be crated at the doggy daycare facility and he does well. We don't know about house training because he isn't living in a home but most adult dogs pick it up fairly quickly going from boarding to a home and he has not shown any signs of marking even while on walks.