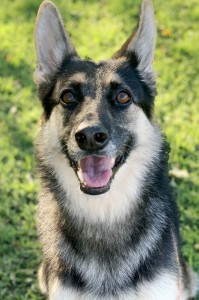 Lola is an approximately 4.5-year old German Shepherd mix who weighs 55 lbs. She is petite for a GSD.
Lola is an absolute sweetheart of a dog! Affectionate and good-natured. She has been around kids and other dogs for most of her life. She loves attention and would thrive in a home where she could be included in activities.
Lola is still an active girl. Lola is reactive on a leash when she sees other dogs but she has been friendly and lived with dogs before – she is just very excited to see a possible friend. She would be fine as an only dog if given plenty of attention and opportunities to exercise, both her body and her mind. She would also be fine with another dog in the home her size. She will require a backyard with a stockade fence. Lola needs to be given ample time with her humans and given physical exercise as well as mental exercise.
Lola is leash, house, and crate-trained.