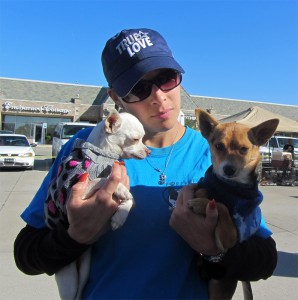 Twice a month, on the 1st and 3rd Saturdays, Forever Yours Dog Rescue holds adoption outreaches at the PetsMart in Moore, OK, 2100 S Service Rd, east of I-35 at the S 19th St exit. (405) 799-7129. On nice days, we like to set up right in front of the store, on the sidewalk. When weather does not permit us to be outside, you can find us in the store at the back, near the grooming salon.
These outreaches take place from 11:00 a.m. to 4:00 p.m. We have an assortment of dogs available for adoption at these events. The public is invited to come and meet our available dogs and hopefully find their new best friend!
If you are interested in volunteering for an adoption outreach, please see our Volunteer page for an application. Volunteers walk the dogs, help to socialize the more shy ones, maintain fresh water and bedding for the dogs while they are in their crates, and assist the public with viewing the dogs.
Quick Links: