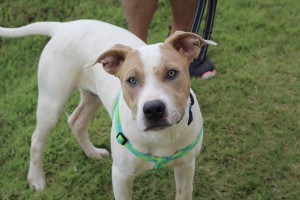 This handsome and sweet boy is Smitty. He is a pit bull/pointer mix who weighs about 55 lbs and is full grown as he's about 1 year old. Smitty was brought into the shelter when he broke with parvo as a puppy but he is healthy and happy now.
Smitty LOVES playing with other dogs. He has lived with 4 other dogs and does well with all of them.  Now he's at Camp Bow Wow where he plays well in group with the other dogs!  He loves to hang out in the backyard but also loves snuggling up on the couch. He's not a lap dog but he does love sleeping in the bed and giving lots of kisses. Watch your ears — that's his favorite place to lick!
Smitty is very smart. He is treat driven and knows how to sit on command. He is house trained to use a dog door and crate trained when his foster mom is out.
Smitty will do best in a home with a yard that has a 6ft fence. Smitty currently lives with cats but he does chase them so would be best in a home without cats. He would be good with older children but not sure about small kids as we haven't had him around any.