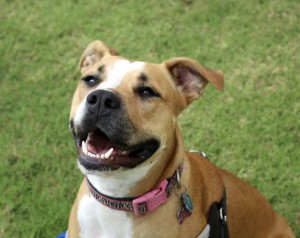 This sweet girl is Lucille. She is a 3 year old Boxer mix who weighs about 60 lbs. Lucille is one of the sweetest and most affectionate dogs you'll meet. She loves people and will hug anyone who will let her. She's a laid back dog and would make a wonderful companion.
Lucille's foster describes her as an extremely well-behaved dog with a sweet disposition. She doesn't show an ounce of aggression and is extremely affectionate with her people. She loves to cuddle and she loves to sleep next to her human. Overall she is a great, sweet dog.  Unfortunately, she can no longer foster her as she is moving into an apartment so Lucille needs a new foster!
Lucille's perfect home would be one where she was given lots of love and affection. She doesn't need much more than that. Lucille does well with most dogs she meets but prefers those more her energy level and her size. She has been great with older children that she has been around. However, she doesn't do well with small dogs or cats.