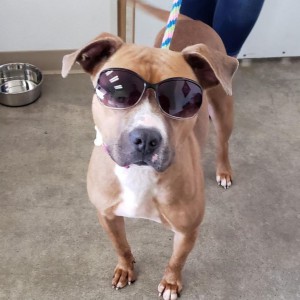 SHELBY is probably the happiest girl you will ever meet. She will wiggle that butt anytime she sees you so you can't help but feel loved and special around her. She would be an amazing couch potato and one heck of a movie date. She's a pretty low-key kinda gal who doesn't need much. Just love – lots of love.
Shelby loves loves loves people. She just wants to give everyone she meets a big kiss. She is so happy to meet anyone and greets you with a full body wag. Shelby does fine passing dogs and does great playing with them through a fence but she is not good with dogs once they are in her space so she is going to have to be an only dog in her home. She is really great and friendly with people so she'd be good with older kids however since we haven't had her around small children we aren't sure how she'd be.
Shelby would like a home where she has a fenced yard to run and play in. She'd love a home where she got to go on walks and get lots of love, toys, and snuggle time.
MUST BE ONLY DOG! BUT LOVES PEOPLE!!!